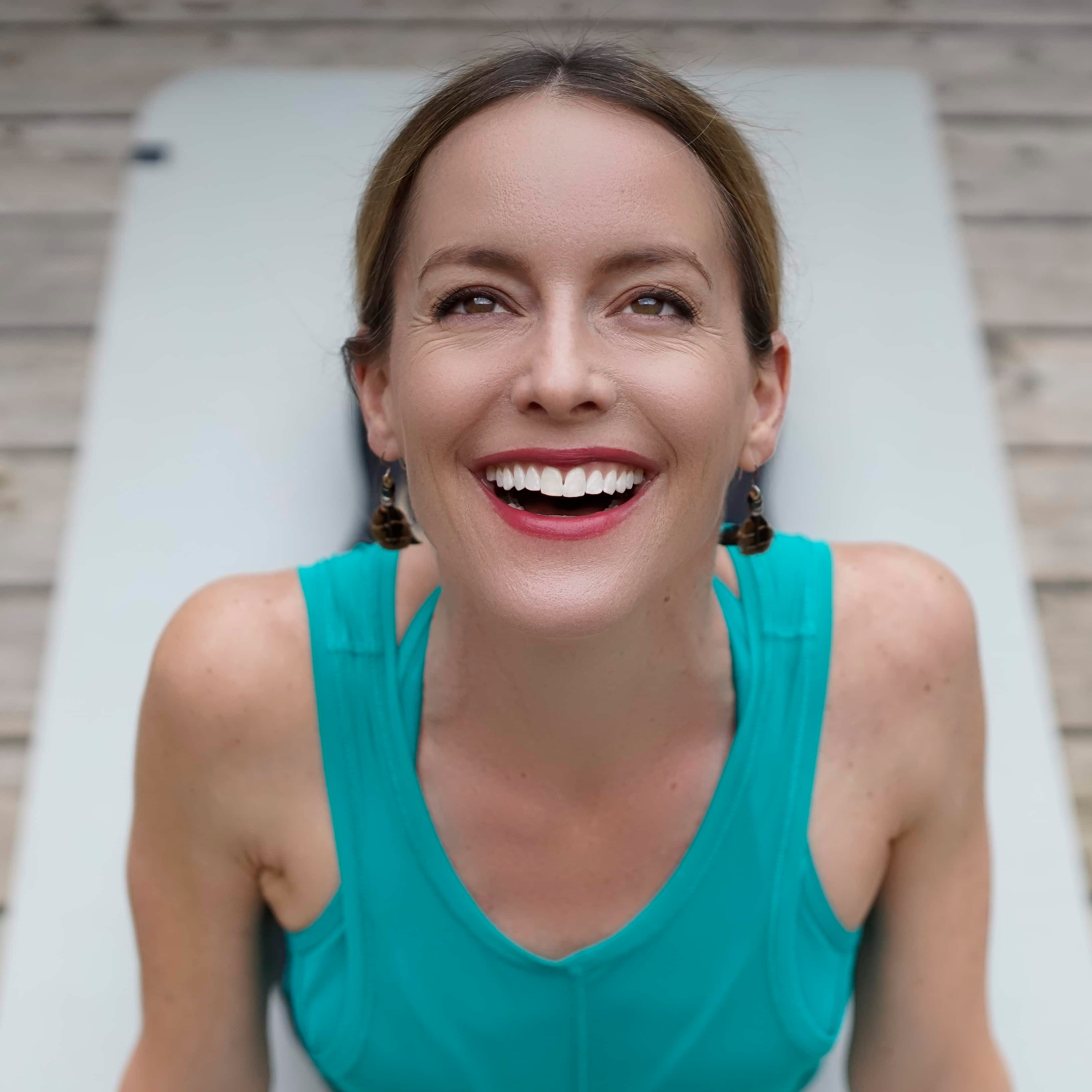 As a one-time acne sufferer, I understand the devastation that acne can wreak on your self-confidence and self-esteem. In my late 20s I developed awful, painful cystic acne that pretty much changed me.

I had always battled mild acne but I kept it under control with the birth control pill and topical medications. Inspired by my yoga practice and a back-packing trip in Asia, I decided to stop my medications and balance my body from the inside out. What happened next was devastating.
Within a month my skin broke out in uncontrollable, painful, ugly cystic acne. My entire personality changed. I stopped seeing my friends, quit a successful advertising career and became a shadow of my former self. I was no longer confident and out-going - instead I felt like hiding away until I could clear my skin. I put my entire life on hold.
Harsh medications didn't appeal to me and I didn't feel as though there were any other solutions. I was desperate. So I spent $80,000 and four years of my life to go back to school to study naturopathic medicine so I could discover how to get rid of my acne naturally.
Eventually, after a ton of research and experimentation, I cleared my skin from the inside out. And for the next 10 years I worked with hundreds of patients to help them clear their skin as well.
Today, I see the desperation and panic in the eyes of my patients when they first walk into my office. They've tried everything, spent a fortune trying to clear their skin and yet nothing seems to work. Frustrated, tired and depressed, they just want their lives and their confidence back.

What is the problem? Why does your skin keep breaking out and why can't anyone help you? The truth is that we have forgotten how to properly treat the skin.
Years ago, before topical antibiotics, accutane and birth control pills were handed out to treat acne, doctors knew how to truly heal the skin. Incorporating this ancient wisdom with real science I have discovered the root causes of acne:
Aggravating foods - Research has shown that certain foods contribute to acne. I am going to teach you which foods could be holding you back from having clear skin!
Imbalanced blood sugar and insulin levels - For decades acne was known as 'diabetes of the skin'. Learn how to rebalance your insulin levels to clear your skin.
Inefficient detoxification - For years acne patients were given herbal formulations to support liver detoxification. It was widely acknowledged that what does not get detoxed via the liver ends up trying to detox through the skin.
Poor digestion and inflammation in the gut - Whenever there is inflammation on the skin there is likely inflammation in the gut. The gut-skin connection is widely acknowledged in traditional medicine, herbal medicine and Chinese medicine traditions.
Imbalanced hormones - It is well-known that imbalanced hormones can lead to acne, and once the above problems are addressed, hormone imbalances are much easier to solve!
Stress - I probably don't need to convince you that stress leads to more acne. I have some great tips to make you more stress-resistant.
Harsh skin care - For centuries, topical skincare was gentle and simple, based on natural ingredients. Taking this, and some simple biochemistr into consideration, I am going to teach you how to properly care for your acne topically.
Does that list seem overwhelming? Don't worry. The good news is that I have put it all together in a truly amazing program that is going to help you solve a huge problem - your acne - simply and efficiently!

I am excited to offer you the first-ever natural program designed specifically to heal acne! Seriously, this is the answer that you have been searching for. I am going to empower you to take control of the problem that is ruining your life and teach you how to solve your acne for good. This is for real, it is not too good to be true.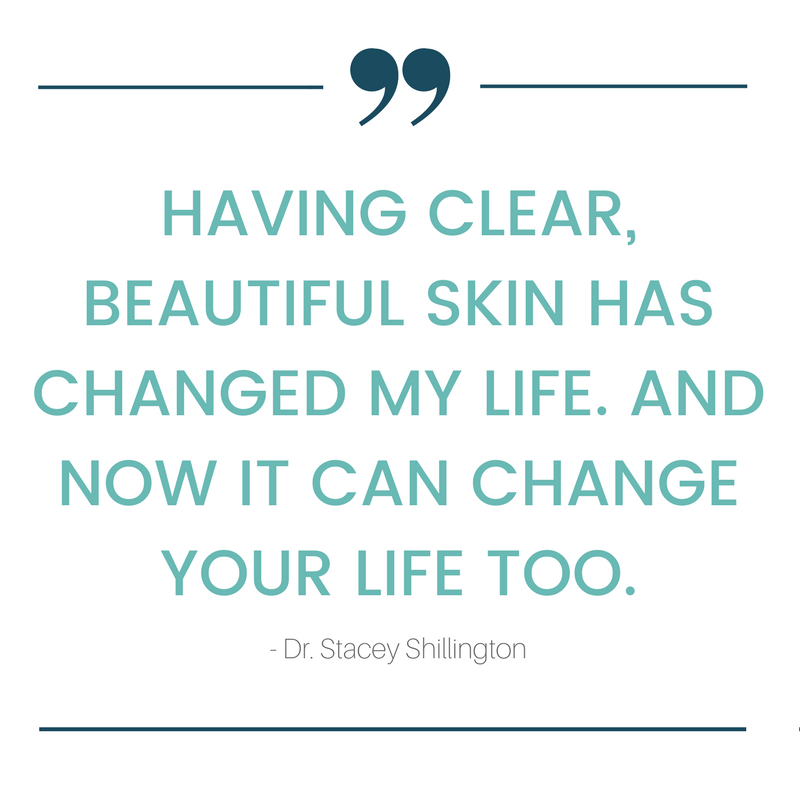 Your body is an incredible self-healing organism and it wants to have clear skin. It just needs to be balanced, and that is what I am going to teach you. The information that you are going to learn is not only going to clear your acne, but it will leave your body feeling incredible. That is the only side effect!
I don't want you to put your life on hold and waste any more time thinking about your acne. I want you to get on with your life feeling confident and beautiful.
Naturopathic Beauty's 7-Week Clear Skin program is organized into 7 simple and effective lessons that teach you how to heal your skin for good. Each week I am going to share a critical and effective step that you must take to help heal your acne. It took me years to research this program and clear my own skin, and now I want to help you clear your skin in as little as 7 weeks.

Acne is the sign of an imbalance within the body. My program aims to restore harmony and balance to the entire body. The results are amazing but a commitment is required to make simple dietary and lifestyle changes, while introducing any supplements that ay be required (approved by your doctor, of course). If you are looking for a quick fix or a magic pill, this program is not for you.

If you follow the program you should start to see your skin clearing in as little as two weeks. Everybody responds a bit differently, but if you stick to the program, you should see significant results over 7-10 weeks.
Imagine clear skin and the ability to live your life without feeling embarrassed and self-conscious. This is your chance to reclaim your ability to live life to its fullest!!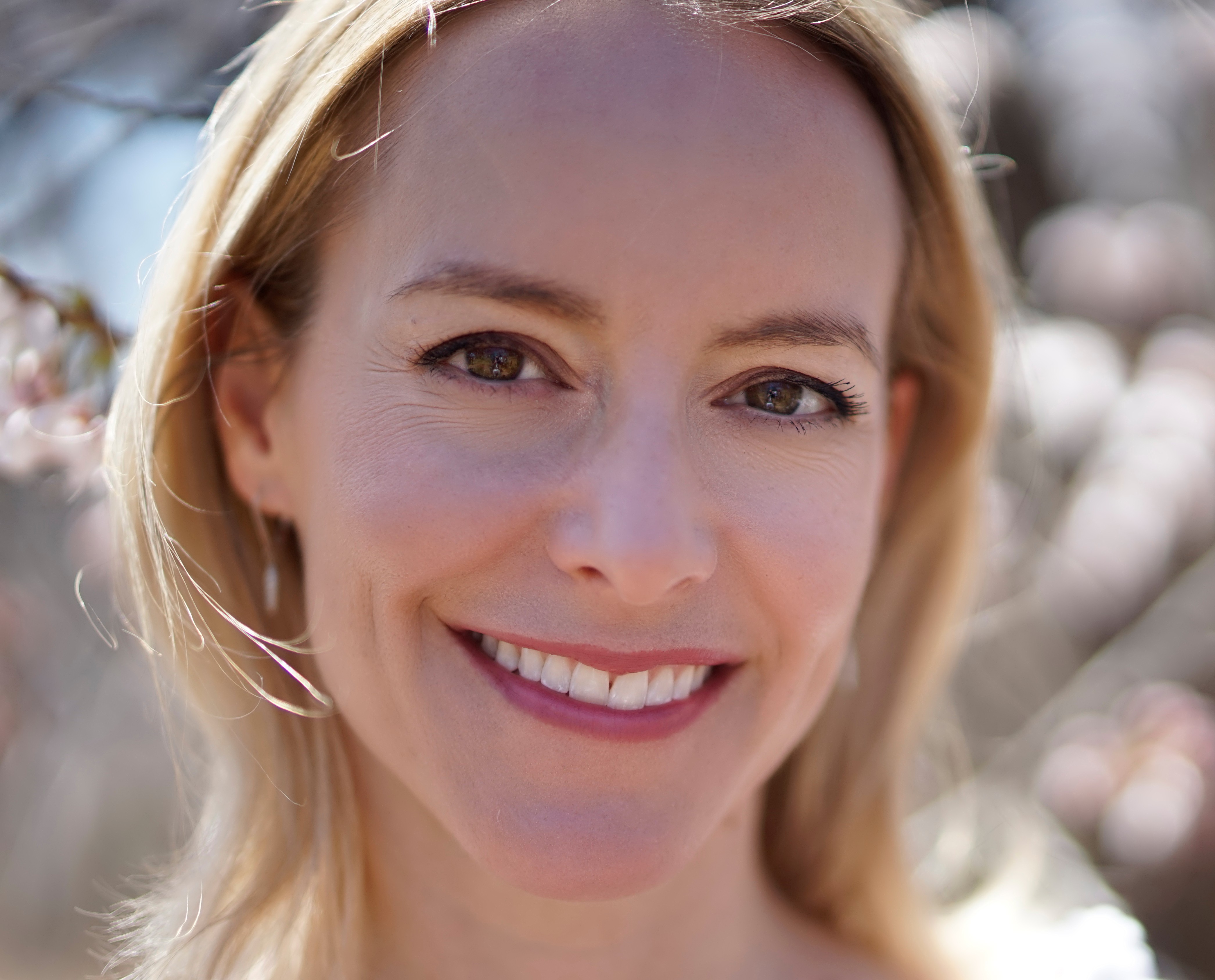 I know how devastating acne can be – it completely changed me. I went from being outgoing and successful to wanting to curl up in a corner all by myself. In fact, acne affected my social, emotional and physical well-being so much that I went back to school to study naturopathic medicine. I have spent the last 15 years researching acne and helping my patients achieve clear, glowing skin from the inside out.
And now, I am going to teach you how to clear your skin in as little as 7 weeks!

you no longer have to spen

d your valuable time searching the internet for expensive acne cures that don't really work


7-Week Clear Skin Program (valued at $1050)
Weekly LIVE Group Coaching Calls (valued at $350)
14-Day Meal Plan with Recipes (valued at $200)
Clear Skin Care Guide (valued at $200)
Clear Skin Detox Guide (valued at $100)
Clear Skin Meditation (valued at $100)
Valued at over $2000, Naturopathic Beauty's 7-Week Clear Skin Program consists of 7 modules. A new module is sent to you each week, along with a manual and a worksheet to help you integrate each week's lesson.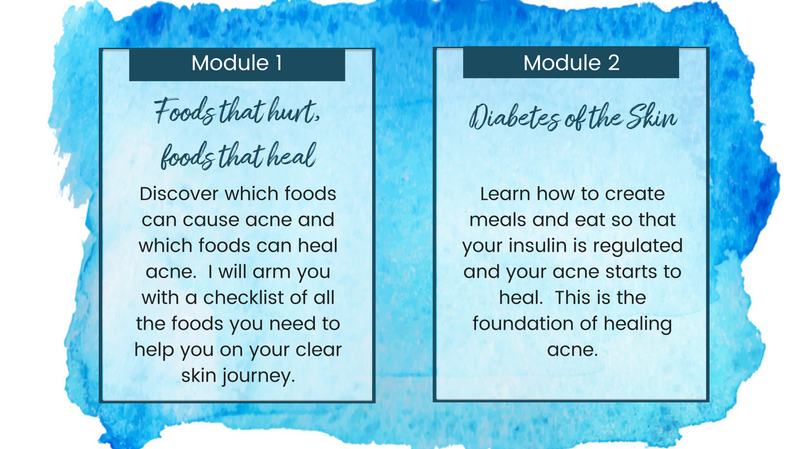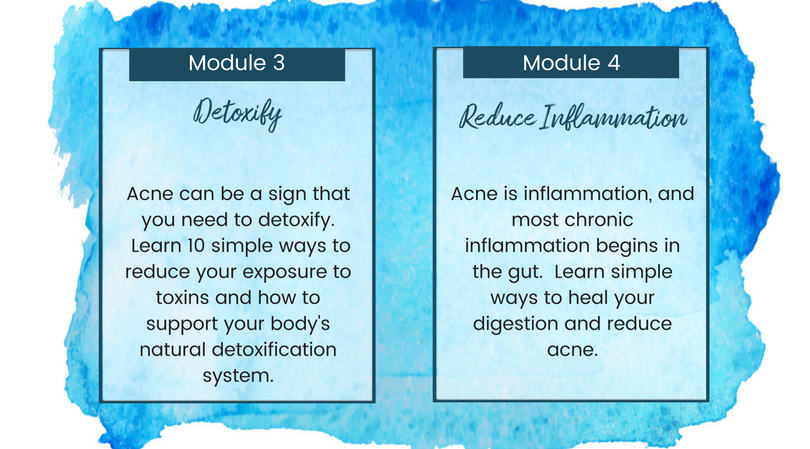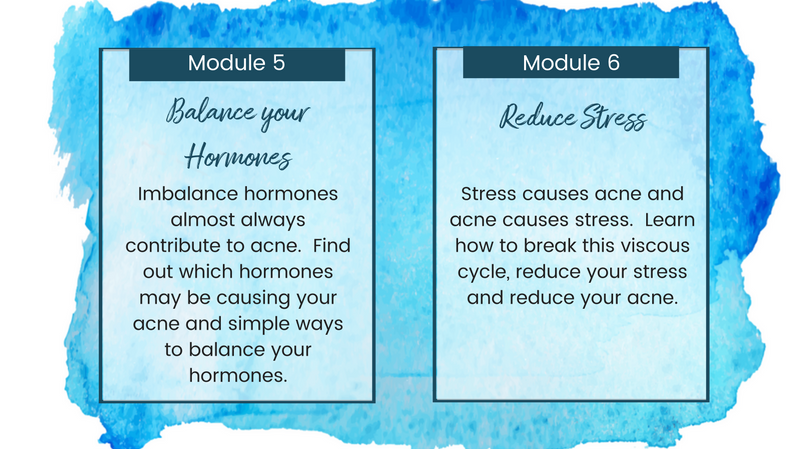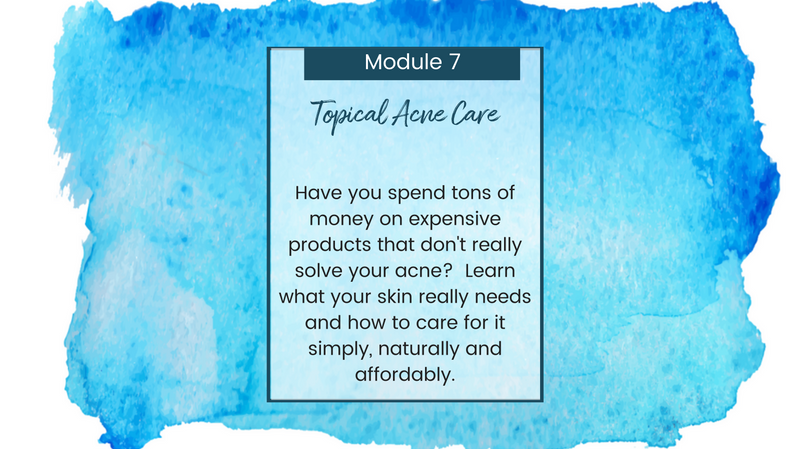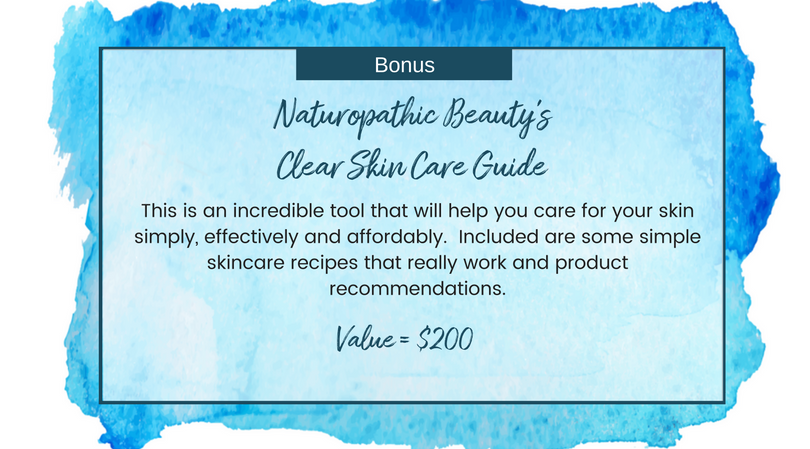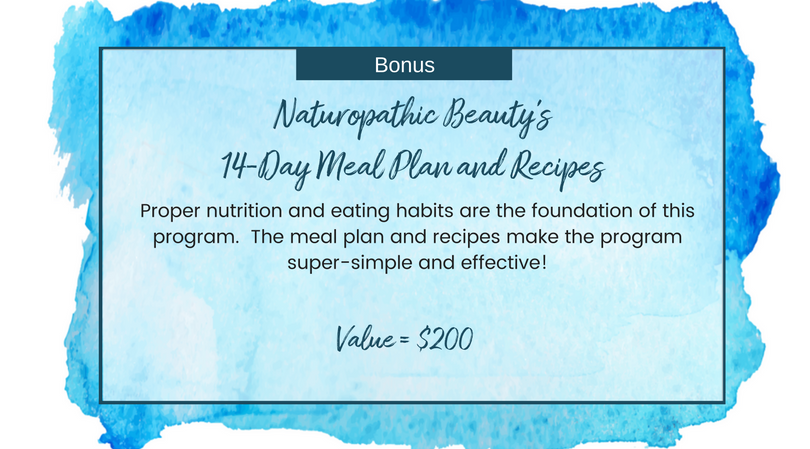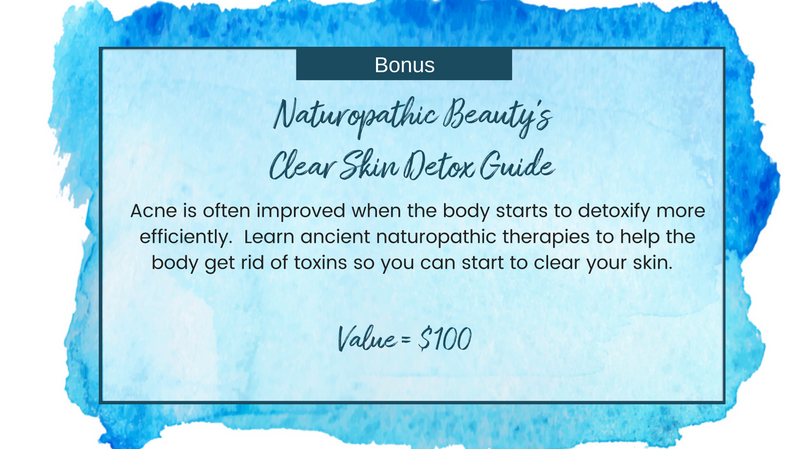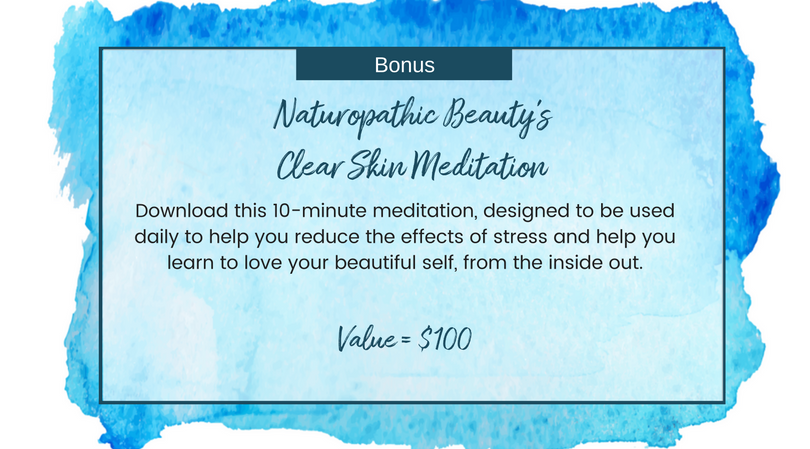 Because I am so passionate about getting rid of acne, and I really want to help you clear your skin so you can reclaim your self-confidence and get on with living an incredible life, I am offering you my program at a drastically reduced price:

This price is less than seeing me for two visits! Plus you get tons of bonuses and access to me in the Naturopathic Beauty Private Facebook Group and weekly group coaching calls! It is time to get clear skin!